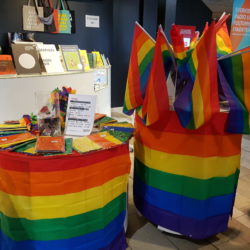 Zuheir's story: 'I had to leave Lebanon after I came out as gay and HIV positive on TV'
Gay Star News 07/06/2019
The project Stonewall 50 Voices series, which celebrates the diversity of our global LGBTI community, has hosted the story of a 29-year-old filmmaker and Lebanese refugee living in the UK.
I am a 29-year-old filmmaker and refugee from Lebanon living in the UK. My claim to asylum is based on my sexuality and my HIV status. I grew up in Beirut and lived part of my life there but now I live in London, my dream city.
At the age of 6-7 I started to have feelings towards men. I remember while I was watching TV, every time I saw a couple kissing, I felt that I wanted to kiss the man.
I thought that I might be the only one in the world who experienced attraction to the same sex, and I was afraid to even speak about it.
During my early teenage years, I loved Duncan James from Blue. I bought a lot of his posters and sometimes bought magazines just because he was in them. I wished that he was gay.
Gay life in Lebanon is not very easy. People are still judgemental and gays are still in danger and receive threats. The Lebanese government continues to discriminate against homosexuals.
A few years ago, the municipal police arrested gay men in a gay club and forced them to take their clothes off before mocking them and taking pictures. Just this week, news emerged that authorities have banned Grindr.
A Lebanese court announced recently that being gay is no longer a crime. However I don't think that this means gays are free and safe there. From my perspective, things are better than they have been in the past and that is the result of the hard work of activists.
When I decided to come out, one of my cousins was the first to know. I remember that day as if it were yesterday. We were on the balcony and I told her: 'I want to tell you something! I'm gay!'
She was very supportive and she told her boyfriend who was supportive, too. Then the circle started to get bigger and bigger until I decided to come out in public on Lebanese TV in 2014.
Coming out for me was freedom, me speaking my mind, me being honest and true to myself.
I faced a turning point in my life when I flew to Dubai for work in 2012. I was locked up in a room and informed that I had tested positive for HIV. This is how I found out about my status.
I got deported to Lebanon and then shortly afterwards my father kicked me out of his house.
I went back to cinema school, and in 2014 I decided to come out as gay and HIV positive in a 22-minute documentary. The film was a university project but it went viral in the festivals and attracted media coverage from international TV channels including BBC Arabic and France 24.
Because of my TV appearances, I sensed that my safety was under threat in Lebanon. I knew that I didn't have a place in my home country anymore.
Home should not be like a prison. Home should be where you feel creative, appreciated, safe and loved. As a result, I decided to move to the UK and claim for asylum.
I was offered the protection of the British government and the UK gave me safety. No-one has showed me love the way that London has. I've never felt more alive than I do here now.
After a year and four months of waiting for the decision in my asylum process, and after some failures of the Home Office in making a decision, on 5 November last year, just five days before my birthday, I received an email from my solicitor telling me that have finally been recognized as a refugee.
No words can explain how happy I was. I felt that I was lost for 29 years and have finally found my identity.
Today I'm happy here, especially as I'm pursuing my dream by doing my masters in Directing Fiction. I've been offered a full scholarship and I'm about to finish. In order to complete my degree, I need to shoot a short film in July and submit it in October. I launched my online fundraising campaign; I would love if you can check it out to learn more about my project and kindly support me if possible.
There are huge differences between the gay life in the UK and the 'gay life' in Lebanon.
In the UK, gay people are more open and free. Most importantly, they accept themselves. I'm talking in general of course, but in Lebanon, gays are not free and they are certain to face verbal and physical harassment if they show any homosexual behaviour. This could even be from holding hands.
Furthermore, just from my own point of view and experiences, gay people in Lebanon are more judgemental. Of course, not all of them, but still … I felt I couldn't be myself. They would always say I'm a bit too much!
Here in London, when I'm in public with someone I feel so free and safe to hold his hand and kiss him without anyone feeling provoked and offended. That said, I currently don't have a partner. I have been on few dates with some people and it hasn't worked out. I'm too busy with my studies, anyway.
My first gay pride was in London in 2017. That was a big deal for me! I went completely crazy, and seeing all the gays out on the streets and free was empowering and made me feel safe.
I got very emotional and knew then that London is the city where my heart belongs.
Unfortunately, the Lebanese government cancelled the first planned gay pride parade in Beirut last year. Knowing that they couldn't celebrate in the way they do here in the UK really hurt. A gay pride parade in Beirut would be so crazy and fabulous. I dream it will happen one day.