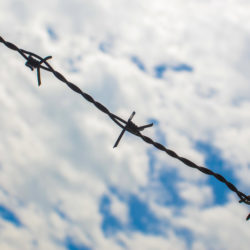 'You look like a f**king gay' - The shocking stories of LGBT asylum seekers
Pink News 02/12/2017
In a report published in 2016 by Stonewall and the UK Lesbian and Gay Immigration Group (UKLGIG), several LGBT asylum seekers talk about their experiences within UK detention centres.
Several LGBT asylum seekers, who have been held in UK detention centres, told their experiences with staff and other asylum seekers, their physical and emotional well-being in detention, and access to legal and health services, to Stonewall's and the UK Lesbian and Gay Immigration Group's (UKLGIG) researchers. The results were published in a Report in 2016. Some of the most shocking personal accounts are recalled here.
HIV-positive Ugandan Asylum seeker Kamali reported: "If your medication runs out, like for me my HIV medication, I have to wait for three weeks."
Vani, a transgender asylum seeker from India, said: "They didn't provide me with any kind of medicine. I have to take regular cycle of hormones. I normally get hormonal implants. Then in detention they told me I can't have any kind of hormones."
"If I don't have the hormones I get hot flushes and all those hormonal imbalance things. I get like blisters, get depressed, get anxiety and all sorts of stuff."
"Confiscating medication can have additional consequences for trans people. Taking away their medication without offering alternative treatment can lead to physical disruption and severe mental distress. The medical staff is really bad."
Others recounted shocking instances of homophobia at every level of the system – from guards, other detainees, interpreters and even legal representatives.
Zimbabwean detainee Maiba recalled an incident where officials tried to enforce a no-homosexuality rule, explaining: "The officer didn't approach the heterosexual couple, she approached the lesbian couple straight away."
"She didn't even say to them excuse me. She said: 'There are different religions in here and different cultures in here I ask you to respect that and there are also children in here'.
Sathi, from Sri Lanka, recalled an incident with a chaplain, explaining: "The chaplain said to 'stop doing this nonsense and go back'."
"He asked me if I am speaking with my parents. I said no because they are not happy with me because of my sexuality. He then told me that 'if you are not happy with your parents then God isn't going to be happy with you. So make your parents happy and go back'. It means leave my sexuality and just make them happy."
"The Home Office talks about my country, but I am having the same problems in their detention centre. They control their staff, but I am still experiencing discrimination."
Hussain, an asylum seeker from Pakistan, recalled: "Another detainee pushed me and he abused me. He said you look like a f**king gay… I told the officers but they didn't take it seriously. They said: 'You just stay away from him. He is not a nice guy'."
The asylum seekers also opened up about the horrific treatment in their home countries that led them to flee.
Brianna from Jamaica said: "I have been shot, I have been raped, I have been beaten. I just got fed up because Jamaica is a very homophobic place. They don't tolerate LGBT people. You have to live a life of lies."
Russian asylum seeker Andrei said: "I got attacked several times. My ex-boyfriend got attacked several times. One of my friends was killed, as a result of the so called 'Grindr attacks'."
"He was in Moscow and there was a group of guys, who got with gay guys on Grindr, and they would come to their place and they would kill them."
"All over Russia, all of a sudden, it was like a new wave of homophobia. All those people being killed and raped."
Gasha from Cameroon recalled: "I was being beaten because I was with a woman. They almost killed me. 'This is against the law!
"Why are you into women? There are so many men out there! Why can't you just be with a man?' I got raped and then I was taken to the hospital."
Ruth Hunt, Stonewall's Chief Executive, said: […] "Without doubt, the way the asylum system deals with people who are persecuted for their sexual orientation and gender identity has improved since we released our 2010 report, No Going Back. Yet there is still significant work for the Home Office to do to improve the lives and experiences of LGBT people, and to improve conditions in detention centres in general."
"To create this report we had to rely on the bravery of individuals who were willing to speak out and we are eternally grateful to them. They have shown true courage in sharing with us what are clearly upsetting memories and experiences in the hope that it will create change."
[…]