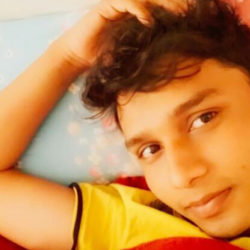 Yasmin, Ali and Rima - 'It Was a Nightmare': Life for LGBTQ Refugees in Greece Can Be a Living Hell
Broadly - Laila Tyack 16/06/2017
Yasmin's, Ali's and Rima's stories and their experiences in Greece.
Yasmin is a transgender woman from Tunisia, 25 year-old dancer, who left Tunisia a year ago, after violent homophobia—mounting with the rise of Islamism following the country's 2011 revolution—reached a lethal peak. Extremists broke into her house and attacked Yasmin with knife, she explains. "They tried to kill me with stab wounds to my body."
But even prior to these threats, Yasmin's youth was defined by abuse and marginalization. She was expelled from high-school for her distinctly effeminate behaviours, and then at age 17 detained for more than two months in an adult prison, where she was raped and beaten. "My pain started when I was born," she says. "I grew up with family problems because I was effeminate, so the problem was first myself and my family, and then people in my country who don't accept those like me."
Speaking from a camp on the remote island of Leros, Ali, a gay former science student from Baghdad, describes his daily visits to the nearby sea to contemplate suicide. "I haven't yet managed because I'm too much of a coward," says the 31 year-old, "but I hope one day I will succeed."
Ali arrived in Greece in January after more than a decade of death threats from his own fanatically religious brother: "When I was 13, my brother came into my room and saw me with a friend. After that day, my life became hell," Ali says. "My father took me a psychiatrist because he thought this was a psychiatric illness. The doctor gave me injections and treatments that made me like a dead person: without any feeling."
Ali's parents came to tacitly accept his sexuality, and his father made an effort to protect Ali from his brother—and from the extremist, homophobic group to which his brother belonged. "My brother's group does not know the meaning of humanity; they killed many of the homosexuals I knew in Iraq," Ali explains, pointing to graphic images of their victims posted online. "One day in 2009, my father travelled to another city and left me in the house with my brothers," Ali continues. "In the night, [my brother] came into my room and lit a fire while I was sleeping."
When his father passed away in November, Ali's mother warned Ali that she would not be able to protect him, and that his only choice was to flee. "So I left Iraq and today I am here," he says, "but as far as I'm concerned, there is no difference between here and there."
Though Ali has escaped one immediate threat of violence, the hostile and despair-ridden environment of the refugee camp—under-resourced in medical and psychological support—has only fermented his trauma. His medication is erratic and often misprescribed; he has no understanding of, or information, about his application progress; and despite having been hospitalized multiple times for self-harm, has no access to regular counselling. Meanwhile, the EU's increasingly strict refugee policy means he will have to plead his case for asylum in Greece, facing a real risk of refusal and deportation back to Turkey.
But for some of those who have escaped the punishing limbo of refugee camps and application procedures to be granted asylum in Greece, Europe has afforded some respite; even liberation. "It was my most dangerous secret," says Rima, a 26-year old bisexual pharmacist who came to Greece from Syria in 2016. "I could never have talked about it—even being an atheist was much easier."
Rima was 15 when she began to question her sexuality; she remembers first hearing about homosexuality on the radio in Syria, and afterwards asking her parents what the term meant. "My father was so angry that I realised there was something forbidden, and I had to know about it," she says. Despite her savvy research into sexuality, it was only when Rima arrived in Europe that she felt her pain and sense of isolation recede. "It was a nightmare for me there—I was suffering for ten years and never imagined that other people like me existed," she explains. "But when I came here and saw people talking normally about sexuality, I was able to speak up without stigma and express my identity."
Nonetheless, she is critical of the narrow-mindedness around LGBT refugees she has encountered in Greece, on the part of society and of the European refugee system specifically. She says she was instructed by caseworkers to apply for asylum as a lesbian, and not on the grounds of her bisexuality—a category which, compared to homosexual or trans identities, was viewed with little credibility. "They think that bisexuals are not suffering because we have two choices about who we can love," she says, noting that even among the lesbian and gay communities in Greece and Syria, the label is regarded skeptically.
She also points to the struggle of locals to compute the existence of LGBTQ communities in the Middle East. "In Greece, they have a certain view of Syria—thinking that we are all the same," she says.
Rima's criticisms are reiterated by activists in Greece who note various strands of cultural prejudice against refugees in the country, including within the LGBTQ community itself. "Of course in some ways, refugees feel they can express themselves more freely here, but there are limitations," says Sophia Zachariadi, one of the Greek founding members of an Athens-based LGBTQI+ group for refugees providing material and social support. "In LGBTQ-friendly environments things are fine, but if they go to the market for example, they might have problems—from insults and abuse, to being called [on] for sex-work—or even raped."
Much of this intolerance stems from Greece's own limited acceptance of sexual diversity, she continues. "You are always a spectacle—even as a lesbian. I all the time find myself thinking about who I am kissing in the public sphere. Many refugees say that they still feel like they're in Arabia, not Europe."