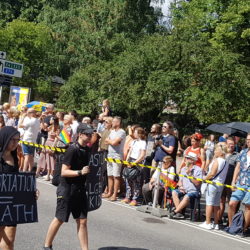 Unlawfully deported from UK was 'gang-raped and fearing for her life' after removal to Uganda: The story of PN
The Independent 20/09/2019
Asylum seeker who is being returned to Britain after landmark High Court case tells The Independent she has been living in perpetual fear of being attacked for her sexuality. Story collected by May Bulman.
A gay woman who was unlawfully deported from the UK has described how she was gang-raped and has lived in perpetual fear since being sent back to Uganda six years ago.
The British government was ordered by the High Court this month to help the 26-year-old return to the UK on the grounds that its decision to reject her asylum claim was unlawful. The landmark ruling could open the door to thousands of similar challenges.
The Ugandan national, who is set to return on Monday, has also talked about the trauma of getting pregnant and having a child, who is now four months old, as a result of the sexual assault she suffered.
The woman, known only as PN because she cannot be named for legal reasons, arrived in the UK in 2011 and claimed asylum on the basis that she was a lesbian and would be at risk of persecution in Uganda. But this was refused and she was removed in 2013 because the Home Office did not believe she was gay.
She is one of thousands of asylum seekers whose immigration cases were decided under the Home Office's "detained fast-track" system, which was introduced in 2005 and came to an end in 2015 after the High Court ruled that it was "structurally unfair".
Earlier this month, a High Court judge ruled the government's decision to refuse her claim was reached by an unfair process which did not give her sufficient time to obtain evidence to support her case. Hers is the first successful appeal allowing a claimant to return to the UK.
The judge ordered that PN be brought back to the UK, but the Home Office has decided to appeal the decision, meaning she faces the prospect of being sent back to Uganda again if the department is successful.
Speaking to The Independent, PN said she has been living in fear that people would find out her sexuality, to the point that when she was the victim of a gang-rape last year, she felt unable to report to the police out of fear that they would discover her identity. She became pregnant and now has a baby son.
"I was sleeping one night, the people came, they banged on the door, they stole everything and they raped me. I was on my own in the room," she said. "I couldn't tell the police as I don't want them to know who I am… I moved away from that place."
"I wanted the doctor to terminate the baby, as I didn't know if I would be able to manage it, but the doctor said that if I tried to do that I might lose my life. The only people I have in my life are my baby and the people who are helping me in the UK."
PN said she fled to the UK when she was 17 after being threatened by people in Uganda who had discovered that she was in a relationship with a woman. She said this had culminated in the killing of her grandmother, whom she grew up with.
"When I was living in Uganda before I was in the UK, I was staying with my grandma and people knew my sexuality, so they were hurting me and the girl I was with. Then they took my grandma's life because they knew me," she said.
"She died because of my sexuality. They were looking for me and I ran away and they found my grandma there in our home, by the time I came back my grandma was lying down, dead."
"I am still scared of these people. When I am in Uganda they can find me, even one day I was walking to the shop and I heard a person calling my name, I was so scared, even when I got away."
Following her grandmother's death, PN said she had no option but to leave the country. A woman who she had been in a relationship with, who was later forced to marry a man, helped her obtain a passport and travel to the UK on a visitor's visa.
On arrival in Britain, she managed to settle and started earning money as a hairdresser. But she overstayed her visa and after three years, she was arrested by immigration officers.
"When I first got to the UK, I wasn't sure that even there it would be okay, but when I was there I realised no one was going to kill me or catch me, so I could be myself," said PN.
"I was happy because I had left everything in Uganda, no one was going to harm me or to kill me and I started feeling that I was going to be okay now. I had friends, my gift was making hair and that helped me make friends there and that's how I got money to live."
"It shocked me to find out I had to go back. When they came and put me in the detention I tried to explain to them why I couldn't go back to Uganda."
"They asked me why when I came to the UK I didn't go seek asylum and I said that when I came I didn't know, I didn't know where I was, I didn't know you could do things like seek asylum until they came and arrested me."
"I told them what I had been through, but they said I was lying. But who can lie about this? I told them that if my country allowed my sexuality, why would I even have come to the UK? It really hurt me because I wanted them to understand."
"I was scared, I am scared. I do not know why they did that. I am not a criminal."
When she was deported to Uganda, PN initially lived with her former girlfriend for a few months, but this became complicated because the woman was married to a man and had children. She had to move out and, for fear of being recognised and persecuted for her sexuality, lived an unsettled life moving between different regions.
"I couldn't stay in one place, it is not safe to be in one place. I have moved more than 10 times. I couldn't go outside much. I had to be in the house lots of time, every time I had to travel, to get food, I had to walk in scary ways. I didn't want people to see me. I felt like I was hiding myself."
"To be in a country which doesn't support what you want, your sexuality… it's hard."
Since being in Uganda, PN has been supported by UK activist group Movement for Justice, which has been providing her with funds to live. She has also been assisted by the charity Sexual Minorities Uganda (SMUG), which has provided her with some emotional support.
Douglas Mawadri, former safety and protection officer at SMUG, said: "At the time of her deportation, [PN] was not in good health. She did not have relatives who she could look up to directly and she relied on us and people in the UK for assistance and any help.
"She certainly lived a solitary life. Her parents passed and since, there were no other adults in her lineage that cared to look after her. Her only paternal uncle abused her sexuality while she was young, a reason she hated men and perhaps changed her attitude of men."
"LGBTI people continue to be persecuted and prosecuted in Uganda. We continue to register cases of persecution within communities and families. Examples are family banishment, school expulsion, ridicule by friends and community members."
Karen Doyle, national organiser of Movement for Justice, said: "PN came to the UK seeking freedom and safety as a lesbian […] Instead of support and understanding she fell under the trap of the fast-track system which was hardwired for disbelief and denial of due process."
"From the moment she was detained, the decision was made, no evidence good enough to 'prove' her sexuality, no time given to get the evidence that might 'prove' her case and all medical evidence that she was a victim of torture was ignored."
"As a result, she was deported and for almost six years has endured the nightmare of living as a young lesbian, with no family support – in Uganda, where women are expected to be married at a young age, where survival means hiding and constant fear."
Describing the fast-track system as a "scandal on a par with the Windrush scandal", Ms Doyle added: "PN is the only case where someone has been returned due to an unfair appeals process, we know she is not the only one who was deported unfairly."
"Thousands of asylum seekers who were subject to an unfair process and who right now could be living in fear, imprisoned or murdered."
"The Home Office have a responsibility to put right this injustice, they should publicly put out appeals in countries people were returned to, for those removed under fast track to seek legal advice."
A government spokesperson said: "It would be inappropriate to comment whilst legal proceedings are ongoing."