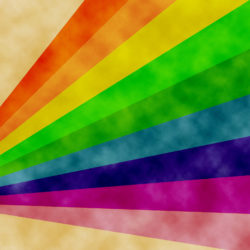 Two stories from Micro Rainbow: Rahim and Alana
Micro Rainbow 04/10/2019
Micro Rainbow shared with us the stories of Rahim and Alana. Check Micro Rainbow's website for more successful stories.
Rahim: A gay man from Bangladesh
My name is Rahim and I am a gay man from Bangladesh. I was forced to flee my country and seek asylum in the UK after my family found me in a compromising position with another man. I was beaten and kept in a locked room for days. Eventually, I agreed to 'change my ways', so to speak, and marry. I went back to university in another city and promised to return for the engagement ceremony. My father reminded me that if I did not honour my promise, he would have me arrested or kill me. On completion of my studies I asked for help from a friend who knew about my sexuality, and he helped me to flee to the UK.
Arrival in the UK
Upon arrival in the UK, I started living with a friend of a friend who advised me to claim asylum. So, I did, and my claim was refused. That's when my problems really started. My friend could no longer afford to support me. He had initially thought the asylum process would be complete within six months. Eight months later with a refusal and a pending appeal under my belt, he could no longer commit to supporting me for another few months. I moved to live with yet another friend of a friend. The following months were a struggle with homelessness, destitution and depression. I went from place to place, never feeling certain or secure.
Support from Micro Rainbow
A few months later, I was granted refugee status on appeal. I was ecstatic that I could begin living my life freely in the UK. But the first hurdle I encountered was opening a bank account, which I could not do without proof of address. Through Micro Rainbow, I received support and information on applying for a national insurance number and opening a bank account. Once they had been set up, I started looking for a job. With no UK work experience and employers at times failing to understand that I had the right to work, I faced further obstacles.
I continued to engage with Micro Rainbow throughout this process, and members of staff alerted me to an employment opportunity workshop with a retail company. This retail company is one of the largest clothing retailers in the world, and they have worked with Micro Rainbow to provide employment opportunities to LGBTI refugees. In addition to this support, they have previously donated winter coats to the Micro Rainbow clothing and food drop-in for LGBTI asylum seekers and refugees.
I attended the company's presentation held at Micro Rainbow's offices and expressed interest in applying for a job with them. I submitted my CV and was invited to an interview. After successfully completing the first round of interviews, I was invited to another interview with a local store manager and was eventually offered a job as a customer advisor.
The future looks bright
I am so happy and relieved to have been offered the job. I am now looking forward to working, supporting myself financially, and finally finding a place of my own to live and call home after more than a year of destitution and homelessness. I hold a bachelors' degree in business and am hopeful that there will be opportunities for me to grow and advance my career. Thanks to support from Micro Rainbow, the future finally looks bright.
Alana: Bullying makes you stronger
Growing up, it was difficult for me to express myself in the way that I wanted to. I'm from Pulau Pinang, an island in the North of Malaysia. It has two sides – one is modern, and the other more conservative. I lived on the conservative side.
My earliest memory is of being five or six years old and wanting to play house with girls. My mom kept telling me to befriend boys, but I didn't see any appeal to it as I enjoyed time spent with the girls more. It wasn't until I met people like me at the age of 13 in high school that we started to understand ourselves. We were really heavily bullied, but we persevered and I'm glad we did, because I now realise that those bullies made us stronger.
The bullying did get to be too much though. My friend and I had to pay the bullies with my lunch money so I could eat in the canteen in peace. Even teachers were calling us names, so I decided to transfer schools without really telling my parents what I was up to until they caught on at the last possible moment.
With the bullying gone, I managed to excel as a student and became the top student of my year. I learned to tone my feminine side down and developed the coping mechanism of laughing along with people. I tried to blend in by becoming more religious and started to pray five times a day. I accepted that I couldn't change who I was as a person and decided to connect spiritually with my religion. It did me a lot of good.
As soon as I turned 18 and finished high school, I was offered a scholarship at a public college in Terengganu but couldn't go. The offer letter specifically stated they did not allow effeminate behaviour from boys (they used the slur 'pondan'). So, I decided to attend a private college in Kuala Lumpur instead and managed to get a scholarship earning an IT diploma. I felt such a need to get out of Penang.
The rest is history
Kuala Lumpur is a very vibrant and cultured city. I was able to explore myself in a more colourful way for more than two years and made trans friends who taught me a lot.
As part of the diploma, I had to do industrial training and went back to Penang to intern with an IT firm. I had to tone down the way I dressed again and didn't like it. It felt disgusting and very claustrophobic.
That's when I was offered another scholarship to go abroad to the University of Kent in Canterbury. I did everything I could and got all the paperwork ready at short notice. That was in May – I flew to the UK in October 2014, and the rest is history.
Well, not quite.
The road to asylum
I studied in Canterbury and met my ex-boyfriend there. I started experimenting with drag and was really expressing myself in new ways. But as a condition of my scholarship, I had to return to Malaysia after two years. Before leaving, my ex told me about asylum, but at the time I didn't really consider it seriously because I had such a negative perception of the word refugee. In Malaysia, it's almost inhumane for refugees. They don't have many rights and aren't treated well.
Shortly after returning in August 2016, I was severely harassed and assaulted. I was unknowingly attracting attention with my friends in a theme park in Teluk Bahang, Penang and was attacked by three or four Malay members of staff who threatened to cut off my genitals with a pair of scissors. I managed to get away after a struggle.
That incident made me realise that I had to do something. It's not OK for this kind of physical abuse to still be happening. That's when I got involved in campaigning against bullying and harassment of LGBTI people – to defend the rights of those who do not conform to what society wants a man or a woman to be.
I went to an anti-corruption rally and got visibility for carrying a rainbow flag. I then got involved with the Pelangi Campaign. We did lots of events trying to bring together LGBTI communities, and some of our events went viral and we received a public backlash. The president of Pelangi took the brunt of it and had to leave Malaysia and seek shelter abroad. He expressed his intention to seek asylum in London to me (but never did), and that's when I also realised it was a real possibility for me too.
With the political climate and everything else that was happening, I strongly felt that Malaysia wasn't a safe place for me anymore, especially because I started to transition in July 2016. I had to do something.
I gathered information and resources for my asylum claim and finally made it to London on November 6th, 2017. After overcoming a few complications, I connected with great solicitors who eventually took on my asylum case pro bono.
My Micro Rainbow life
After filing my asylum claim, I naively thought I would receive accommodation from the Home Office soon after. Instead, I had to hop couches and overstay my welcome at friends' houses in Canterbury.
At high risk of sleeping rough, I was finally taken to temporary accommodation in East Dulwich, but the receptionist there realised that I was trans and quickly made a request to transfer me to single room lodgings in Croydon. At that point, my solicitor put me in touch with Micro Rainbow and told me there was a new shelter opened for LGBTI asylum seekers and refugees. Within two weeks, I was relocated to the Micro Rainbow house on the outskirt of London while awaiting my main interview with the Home Office.
I was incredibly lucky that Micro Rainbow was there at the right time. I kept worrying I could end up homeless, like so many LGBTI asylum seekers do, and risk losing the claim or delaying the process. But when I arrived at the Micro Rainbow house, I felt a sense of relief to have a roof above my head and feel safe at the same time – something I hadn't felt in a long time. It was heart-warming.
They give you a bed, a duvet, Wi-Fi, groceries, a fridge, a stove, a cooker, an oven, microwave, even a bathtub! You can prepare for your case in a calm environment. Micro Rainbow's fundraising is actually what allows them to buy all these things to make the shelter more homely and comfortable, which is why I raised money for them on my birthday. I knew what a positive impact it would have.
Micro Rainbow provided us with housing and took care of our well-being and basic needs. We didn't need to worry about being homeless and felt a sense of comfort. In the house, you're encouraged to join the social inclusion programme that Micro Rainbow organises to give asylum seekers and refugees a sense of community when going through our asylum claims. I used to feel lonely in Croydon and Canterbury. At Micro Rainbow, I was able to connect with people from different backgrounds and with different stories, all united by the same purpose: to live our lives as authentically as possible.
Not only does Micro Rainbow take care of all your expenses, but their motto is also social inclusion. The weekly events they organised gave me a sense of belonging and purpose and made me feel like I had a life as an asylum seeker. I don't think a lot of LGBTI people claiming asylum have that.
Being in the house really made me feel like I have a place here, and that I want it to keep going. I felt content and my heart was always full. I really didn't think that I would feel this way, but I did, and I have Micro Rainbow to thank.
I will keep fundraising and volunteering for them and giving back, because I know how much of an impact, they make in the lives of the asylum seekers and refugees they work with. Micro Rainbow inspires me to be more proactive with my activism.
Alana stayed in the Micro Rainbow house for nine months. Today, she lives in Stratford and is earning an MSc in Information Systems & Management at Birkbeck College. She also works full-time as a developer at a major investment management firm.