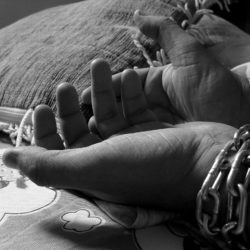 Stand with Joana!
Oram International 26/07/2019
This is the story, reported by ORAM (3 June 2019), of Joana* and Mado* that live in Turkey in precarious conditions, enhanced by their vulnerability. They have been waiting to be resettled to a safe third country since 2016.
"My name is Joana*. I am 25 years old and from Tunisia. My partner Mado* is 29 years old and from Lebanon. We would like to share our story with you.
My parents found out about my sexual orientation in spring 2015. It wasn't long before my whole family and all my friends knew and started threatening me. I had no choice but to flee. I had a friend who had a contact in Qatar and was able to obtain a work visa and secure a job as a waiter in a hotel. I left Tunisia on the 10th of May 2015.
Whilst living in Qatar I met Mado*. However, when his brother found out about our relationship he started threatening us and even attacked us three times. Again, we knew we had no choice but to leave Qatar. I contacted an activist in Turkey, enquiring about the United Nations High Commissioner for Refugees (UNHCR) and international protection in Turkey. He told me we could get protection from UNHCR. After our conversation with him we were hopeful. We expected Turkey to be a safe place where we could live without fear and without discrimination.
We arrived in Turkey on the 10th of February 2016 and registered with UNHCR the next day. We were granted international protection on the 14th of June 2016.
However, we soon realised that life in Turkey would be no different than in Qatar, in fact, we experienced even more problems. When we first moved we were renting a house in a small city in Northern Turkey, however, our landlord soon evicted us because we were gay. Before evicting us, he stole our belongings, leaving us homeless and with nothing. Since then we have had problems finding anyone to rent a house or room to us owing to our effeminate appearances.
Finding work in Turkey has also been extremely problematic. After arrival, Mado* managed to get a job at a restaurant. However, after one week someone tried to rape him but luckily he was able to defend himself. Whilst Mado* went to the police to report the incident, the police were unable and unwilling to help us. This was just the first in a series of many such incidents of violence and abuse against us and was not the last instance of sexual abuse towards us. We were not always able to defend ourselves.
Every neighbourhood we move to in Turkey, no matter the city, everyone knows we are trans and gay and call us names. The local society try and get us to leave, making it very clear we are not welcome. Locals have broken into our house and smashed our windows. People would tell us to go live in another city, but when we relocated to a new place, the same thing would happen again. People in local neighbourhoods would beat us in the streets and no one would help, people would just stand and watch.
We have reported all these incidents to local organisations and the police, but nothing is ever done about it. The local police refuse to help us, and the organisations are unable to.
We are desperate. We have been in Turkey for over three years now and every day is a struggle. Every day we wish to be relocated to a safe place where we can build a life together and be accepted for who we are".
Joana & Mado
*false names have been used to conceal our client's identities.