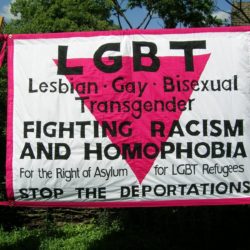 SOGI asylum seekers' stories from Germany
Pinknews and Gaystarnews 27/10/2017
SOGI asylum seekers' stories from Germany. From their accounts, it emerges how national authorities seem to fail to acknowledge the severe violence they encounter in their home country, exposing them to deportation.
[…] Speaking to Politico, one trans woman from Lebanon, Eliana, explained how that she had been attacked numerous times for her gender and sexual identity.
Her own brother ordered a group of men to attack her, leaving her with dark bruises and deep cuts all over her body.
Before fleeing Lebanon, she was working as a sex worker but when she arrived in Germany Eliana landed a job at a beauty salon and began to learn German.
She was sure that her application would be accepted because of the horrific treatment she endured in Lebanon, but earlier this year she received a letter informing her of her failed application and the impending deportation.
It was rejected because she crossed the Mediterranean sea from Turkey to Greece presenting as male, which she did in order to protect herself.
'It was humiliating,' she said of the deportation letter. 'Everything I had been planning and working on fell apart.'
Gladt, an organisation which supports LGBT asylum seekers, said that they 'didn't expect the decision at all' because her 'case was so strong'. [It added] Germany's system does not recognise the discrimination that LGBT people face.
'BaMF are making a lot of wrong decisions," explained Rainbow Refugees founder Knud Wechterstein. "They are sending people back for reasons that don't reflect the reality in their home country.'
However, BaMF insists that they review each case individually and 'if the asylum seeker can credibly show that they would be in danger because of their sexual orientation in their country of origin' then they will be offered asylum.
[…] Sabrina Latz of the Queer Refugees Network said: 'Many of our clients are married because they are not able to live openly as gay men in their home countries.'
One man from Iraq, who is gay, married and had children in order to hide his sexuality, just as Eliana presented as male so she was safer when crossing borders.
[SOGI asylum seekers face also difficulties in Court. For example, a] German judge questioned a gay couple fighting deportation to Russia about their sex lives for four hours because he did not believe they were gay.
Pavel Tupikov, 41, and his partner, Igor Popialkovskii, 32, are fighting to stay in Germany because it is not safe for them in Russia.
A neighbor and a police officer allegedly blackmailed the couple in Russia, where life for LGBTI people is very hard.
'My ex-boyfriend has been stabbed,' Popialkovkii told Wochenblatt.
'All our friends live there in great fear'.
'There are propaganda programs on Russian television where the call Europe 'Gayropa'.
Recently, there was a show in which homosexuals were promised a ticket to the US because Russia wanted to be 'cleansed of them.'
Tupikov attended a hearing at the Administrative Court of Regensburg, Bavaria on June 26 where he had to answer invasive questions about his sex life. He was appealing a deportation order from the Federal Office for Migration (BAMF).
'I had to talk about sex only for four hours,' he told Wochenblatt.
'He (the judge) asked me when I had my first time, with whom and how it was. He wanted to know everything.'
'The judge also said he does not believe that we are a couple.'
'How can I prove that we are a couple? Should we kiss in court?'
[…] 'We often have to go hungry because we can not buy food,' Popialkovkii said.