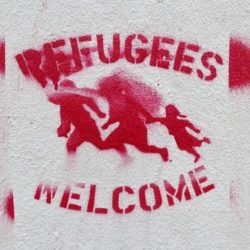 Sicilian volunteers help African LGBTI migrants hit by new Italian Law
The New Humanitarian 20/06/2019
For the World Refugee Day '19, we would like to pay tribute to those volunteers who help all migrants, including people fleeing homophobia and transphobia, so they can feel everywhere at 'home'. #EveryHumanCounts
[Story collected by Stefania D'Ignoti for the New Humanitarian – visit the link for the full article]
The future of most asylum seekers in Italy has become more uncertain with the passage of a new law, but for lesbian, gay, bisexual, trans, and intersex people fleeing persecution in their homelands it creates a special jeopardy.
Championed by far-right Deputy Prime Minister Matteo Salvini, the law abolished humanitarian protection for those not directly affected by conflicts or natural disasters – not just newcomers but also longer-term asylum seekers. This ended their right to two-year residence permits and cut government funding for job training, legal counsel, and language lessons.
Dubbed Salvini's Decree, it was passed in November even though arrivals to Italy by the perilous Mediterranean sea route from North Africa had already tumbled – from more than 180,000 in 2016 to 23,000 in 2018, according to the UN's refugee agency.
Most land in Sicily where a local aid group, La Migration, has become a beacon of hope.
Michael Fuwobiri's story echoes that of many LGBTI asylum seekers.
"My family didn't accept me, and treated me like a stranger in my own house," says the 23-year-old from Nigeria, where LGBTI people often are arrested and punished. "When neighbours found out about my homosexuality, they put my picture all over social media," Fuwobiri says. "The police were chasing me. I had to leave quickly or I'd end up in jail." Fuwobiri paid a trafficker to smuggle him to Europe, crossing the Sahara Desert through Niger and Algeria before boarding a boat that carried him to Italy.
Still, his trials did not end. Fellow African migrants in Sicily harassed him because of his homosexuality. La Migration provided a much-needed reprieve.
"LGBTI migrants tend to hang around fellow countrymen at help centres as soon as they land," says Rafaela Pascoal, a cultural mediator at La Migration originally from Portugal. "But that doesn't help them integrating; they just confront the same kind of discrimination they encountered in their home countries. "That's why they need specific desks, so they can begin their new lives leaving threats and harassment behind."
La Migration offers free legal, psychological, and cultural integration services from six volunteers, including longtime migrants with personal experience navigating the complex EU asylum system. They direct new arrivals who come into ports scattered all over Sicily to their centre in the provincial capital, Palermo – a safe space where they meet others with similar problems and receive tailor-made assistance. Interpreters and cultural mediators are on hand and on call 24/7.
La Migration was founded in 2011 to satisfy the growing needs of the LGBT migrant community, explains co-founder Ana Maria Vasile. "Requests for help intensified especially between 2013-2015, when the refugee crisis peaked," she says. Since its opening, volunteers have helped around 120 mostly young, gay Muslim men from West Africa. So far, 56 have had their protection requests approved, including Fuwobiri, who now works as a hotel receptionist in Sicily.
"I love my freedom and opportunity to live my life here," he says. But he's concerned that the country that saved him is growing less likely to proffer that good fortune to others.
Vasile says La Migration plans to extend its outreach since Italy's six largest refugee reception centres are set to be shut down this year, including Europe's largest one in Mineo, eastern Sicily. Institutional legal support has been reduced from 10 hours to six a week for groups of 50, and individual cultural counselling from three hours a month to 50 minutes. This, coupled with prioritising conflict survivors, increases the burden of proof for those seeking refuge because of their sexual orientation.
EU law dictates that people fleeing persecution because of their sexual orientation are entitled to refugee status […], but many European governments fail to follow it. "It has already been hard to prove someone's homosexuality as a reason for asylum protection. This law will be a negative game-changer," says Vasile, who is from Romania and president of the local […] Arcigay, the national Italian LGBTI association that helps fund La Migration. Vasile spends countless hours working with asylum seekers on their story timelines to make sure there are no gaps when cases go to Court.
Gaetano Pasqualino, an immigration lawyer who defends LGBTI migrants in Sicilian courts, explains the difficulty: "Italian policemen put migrants under pressure when asking the reason for asylum… and, ashamed, they lie on their first application, raising doubts about the truth at later stages." Hence the importance the Palermo team gives to keeping open desks specifically for gay migrants, especially with the approach of summer, the season for migration across the typically calmer waters of the Mediterranean.
"We have the chance of knowing them personally, for a long period of time," says Pascoal, the cultural mediator. "We trust the credibility of their stories and their feelings of fear. That [level of trust and comfort] can only happen when small but efficient groups work for the wellbeing of the newcomers in their local areas."
The new law can only worsen the situation in a country where "there are still widespread feelings of prejudice, ignorance, and irrelevance regarding gender topics," according to the immigration lawyer, Pasqualino.
'They have more love to offer' Vasile is more positive, saying La Migration's work challenges popular views portraying Sicily as backward about gay rights: "People tend to wrongly assume that Sicily is a socially conservative island because it's very religious and attached to traditions. But in terms of gay rights it's surprisingly open-minded, shown by the fact that we have a very active LGBTI community here."
It's impossible to say how many LGBTI people are among asylum seekers in Italy, since most fear discussing their sexual orientation with officials. "Often authorities are not educated enough about gender persecution, or how to speak to asylum-seeking victims of homophobia." Pascoal finds LGBTI asylum seekers "tend to have more trust in the host country than regular migrants." They are "more open to integration efforts because they have more love to offer, as a reaction to the lack of affection they encountered back home."
Kennedy Omokhegbe, a Nigerian refugee and activist from AfricArcigay, understands the need for spaces where gay migrants can feel protected, and no longer lonely. "These centres are a crucial part of the healing process," says Omokhegbe, who landed in Sicily in 2015 and now lives in northern Italy. "They fill a gap where institutions fail, as often authorities are not educated enough about gender persecution, or how to speak to asylum-seeking victims of homophobia."
At La Migration's centre, a young woman in football training gear rushes in just before closing time.
"I can't express my feelings of fear… because if I revealed who I really am I could go to jail [in my home country] for 14 years. Can you imagine?" asks Sandra, a 19-year-old Nigerian student who didn't want to share her last name for fear of reprisals. "Back in Nigeria, my father was the only one who knew I was lesbian and accepted me, but after he passed away everything changed for me," she says; relatives harangued her, telling her it wasn't right to love women, making her feel odd and unwanted. Motivated by her passion for Italian football and quest for sexual freedom, Sandra took the migrant trail and reached Sicily in 2017, hoping to heal the wounds from years of psychological violence. But she is still waiting for her refugee status to be approved.
In the months since Italy began implementing the new law, refugee status rejections have reached a record 82 percent, compared to 52 percent in 2017, according to the ISMU Foundation, which publishes studies on multi-ethnicity. Following the Salvini Decree, the Institute of International Political Studies, or ISPI, estimates that less than three percent of asylum seekers still receive humanitarian protection. As a result, up to 140,000 people may become irregular migrants by 2020, the institute warns.
[The fight has only begun. Have a great World Refugee Day!]