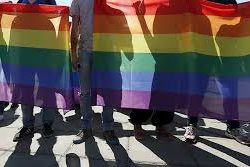 Persecuted beyond borders. The story of a Libyan refugee.
Open Democracy 29/09/2017
The story of a Libyan asylum seeker who found refuge in Italy and is now a volunteer for an association supporting LGBT refugees [story collected by Claudia Torrisi - visit the above link for the full article].
Amani Zreba, 36, was forced to flee Tripoli six years ago because of her sexuality. "I had a girlfriend from Egypt, and the whole society was hostile to us. At first I went to Egypt with her. I stayed there for a year, but I had to move even from there".
Zreba now lives in Milan, and is a volunteer for Immigrazione e Omosessualita, an association supporting LGBT refugees. "I came here as asylum seeker – It was not easy, but after six months I got my status as a political refugee."
[…]
Libya's 1953 criminal code criminalised homosexuality, with penalties of up to five years in prison. The fall of Muammar Gaddafi has not improved things; in 2012 a Libyan official shocked the UN by proclaiming that "gay people threaten the future of the human race".
According to the International Lesbian, Gay, Bisexual, Trans and Intersex Association, Libya is one of 72 countries that criminalise people based on their sexual orientation. In at least eight of these states, those convicted under anti-LGBT laws can be executed. In 19 countries, homophobia is state-sanctioned under "morality" laws that "actively target public promotion or expression of same-sex and trans realities."
When Zreba arrived in Italy, she was sent to a reception centre where she felt intimidated by other asylum seekers because of her sexuality. "I was told that there was a guard from Libya in the centre. I was afraid that he or others could find out the reason of my asylum request and my sexual orientation".
Zreba recalls being "isolated and fearful for the whole time" she was in the centre waiting for her application to be accepted: "It was intolerable. I was afraid for my family in Libya because of the war, but I was worried about my situation too. It was the toughest human experience I ever lived."
[…]
Abusers may be other asylum seekers in reception centres. They may also be reception staff or other authorities in the asylum system.
[…]
"It is not easy to tell our personal stories or what happen in our countries," says Zreba, and a lack of information and resources can be a problem too. "Some migrants are homosexual but they are afraid to say it. Maybe they need to speak with a psychologist or reach NGOs or associations, but nobody tells them anything about this."
So far most EU member states make no special accommodation facilities for LGBT people, "but special measures – such as transfers to single rooms – can often be taken in case of abuse or harassment."
Schwulenberatung, a German association for LGBT rights, recently opened a shelter in response to attacks in reception centres in the country. Between September and December 2015 there were at least 95 such attacks; most were committed by other migrants.
Similar projects have slowly started in Italy. In May, the organisation Arcigay took an apartment for LGBT asylum seekers in Modena, while a shelter will be opened in Bologna by the Movimento identità transessuale (MIT) association that supports trans people.
[…]
Zreba's organisation hopes to open their shelter in Milan in the near future, and is lobbying for separate accommodation and social support for LGBT refugees who arrive in Italy traumatised by their experiences and journeys.
She is quick to stress that it's not a matter of giving anyone special privileges: it's about recognising the right to safety and preventing further violence.
"Just imagine: you flee from your country because you are persecuted and scared, then you arrive in Italy and you are put in a [reception] centre where you are still attacked and scared – It's not special privileges. There is no privilege in being safe."
From 'Persecuted beyond borders: why Italy needs LGBT refugee shelters', written by Claudia Torrisi for Open Democracy.