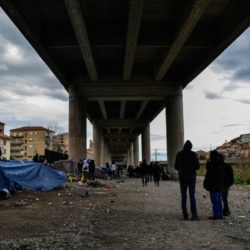 Life stories under the Gianchette bridge - Ventimiglia
Thesubwaywall 11/05/2018
Ventimiglia, an Italian city close to the French border where migrants settle in unathorized camps waiting for the 'European dream'. The Gianchette bridge is more than a flyover: it is a symbol of an 'interrupted' dream.
Lorenzo and Luca are students of International Relations at the University of Bologna. Last February, they decided to visit Ventimiglia, a small town at the border between France and Italy. They collected evidences to highlight the consequences of the migratory phenomenon and European policies in this field. They decided to share two stories with the SOGICA project, while the full reportage is available visiting the links provided below. Although they are not SOGI asylum seekers, these stores expressed the dreams and the suffering of many migrants headed to Europe, including those who request asylum on the grounds of sexual orientation and gender identity.
Hayat – an Eritrean girl
We met Hayat a few hours after her arrival in Ventimiglia. She has been informed that the "sisters" – this is how women call each other under the Gianchette Bridge – can wash up in the crumbling, even still comfortable, bathroom of the Eufemia info point. We stopped distributing clothes to men because Hayat wanted some privacy. "I feel shy", she said during the room's emptying. Then, she finally enjoyed a moment of relax. A few minutes later, two other Eritrean girls joined us in the cellar. "They're my sisters", Hayat said with a big smile on her face meaning something like "It has been tough, but we managed to stay together". Their final destination is Germany, where their older sister has been waiting for them for two months. When they arrived in Libya, their older sister was pregnant "by her husband", they stressed. This is not indeed so obvious, considering the atrocious violence that women experience during this kind of journeys or in Libyan prisons. She faced the biggest challenge – i.e. crossing the Mediterranean – before them.
Being a minor, Hayat can ask for family reunification with her sister in Germany, as Daniela from Intersos – an NGO that takes care of medical and legal assistance in Ventimiglia – explains to her. According to EU law, i.e. the Dublin III Regulation, she also has the right to be escorted by one of her adult sisters. However, she might have to wait up to six and a half months for the reunification. "I don't like being here, with nothing to do but wait", Hayat opened up. "I don't want to waste my time, I have too many plans: I want to study and find a job to be independent and take care of my parents, who remained home. I also would like to make their dream come true: visiting prophet Muhammad's burial place in Medina".
After some days, we found out that Hayat managed eventually to reunite with her sister in Cologne.
Three boys from Sudan
Many migrants see Italy just as a leg of their long journey, as Abdul, Adam e Mahmoud – three Sudanese boys "hosted" under the Gianchette Bridge – explained.
Abdul tried to cross the border three times. Although he was always sent back to Taranto, he still does not give up.
Also Adam managed to reach France, after his arrival in Italy in August 2016. However, he was forced to come back too. He was fingerprinted in Italy, which is his receiving State according to the Dublin III Regulation.
Mahmoud, in turn, escaped from Darfur (a region in Western Sudan). In order to reach Ventimiglia, he had to cross Libya. As he reported, "Libya is a place worse than hell. There everyone, from children to adults, is a criminal". Going around in the streets is not safe there, because "almost every inhabitant has a weapon, and being shot on sight is not uncommon".
Mahmoud explained that, in Libya, refugees are locked in prisons and tortured in an inhumane way. Tortures are filmed, and videos are sent to the families, who are called to pay a ransom to stop the pain.
"I managed to escape only at the third attempt", Mahmoud says, adding: "even if here the situation is hard, I consider myself lucky because a lot of my friends are still in Libya: now I feel safe, and I'm not constantly scared anymore". Once disembarked in Italy, "I called home to inform I was alive". "They celebrated and thanked Allah" by doing karama, a typical Sudanese custom consisting in slitting a baby goat's throat and donating money to other families of their village. In his first 27 days of "stay" in Ventimiglia, Mahmoud tried to reach France eight times in every possible way: train, roads, paths. "I want to reach England, because Sudan was one of his colonies. In Libya I learned English listening to dialogues between Nigerians and natives". The French gendarmerie already knows his face, but Mahmoud assured "I won't stop trying".
However, like many of his mates, he is stuck under the Gianchette Bridge, waiting to leave this border together with his past – too hard to bear.
These stories were collected by Luca Vanelli and Lorenzo Balbo and translated by Serenella Barbera and Alice Bagorda. The full reportage is available here:
https://thesubwaywall.net/2018/03/19/reportage-il-nostro-ritorno-a-ventimiglia/
https://www.frequenzappennino.com/reportage-il-nostro-ritorno-a-ventimiglia/
https://www.facebook.com/pg/reticolozero/photos/?tab=album&album_id=2088423354778057
Should you want to contact the authors, please write to one of the following email addresses: vanelli5545@gmail.com (Luca), tanzen.balbo@gmail.com (Lorenzo).