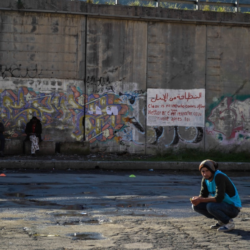 'Life is hell because I support my gay brother' - A story from Cameroon
76crimes.com 06/06/2018
In Cameroon, if you are a loving, supportive member of a gay man's family, you can become a target for violently anti-gay attackers. Colin Stewart and Mr. Defender collected the story of Dominique's family.
Cameroonian LGBT rights activist Dominique […] fled to France for his life in 2012 and was granted asylum there. Now three members of his family are also seeking asylum to escape the persecution they face in Cameroon because of their association with him […]. This account was assembled with the help of the volunteer human rights activist known by the pseudonym "Mr. Defender."
Guillaume's story and his 'associated persecution'
Guillaume […] was born into a deeply religious family in 1985 in Yaoundé, Cameroon.
From an early age, he had strong ties with his older brother [Dominique] and soon realized that [he] was gay. Guillaume recalls:
"Starting in elementary school, Dominique behaved like a girl. My father forced him to play football and cops and robbers — to 'be a boy.'
"I protected him from boys who insulted him and tried to beat him up. I even helped him keep his romantic relationships with boys a secret. "
One day, a dispute broke out between Dominique and his boyfriend. His mother intervened and went into his room. There she found lubricants and a package of condoms. On that day in July 2000, everything changed.  The whole family had just learned about the homosexuality of Dominique.
"Our dad started beating Dominique," Guillaume says. "Then he locked him in his room without any food or water. I sneaked in to give him something to eat in secret.
All that was done to Dominique in an attempt to free him from "the spirit of homosexuality," Guillaume said.
At a family meeting, their parents decided to remove younger children from what they considered a curse that had fallen on Dominique.
[…] From 2002 to 2009 (from age 17 to age 24), [they] lived with that family, where they endured bullying and mandatory prayers aimed at curing "the evil of homosexuality."
In 2010, he left Emana to attend the University of Soa in Yaoundé.
He attended several seminars about health and human rights that were organized by international anti-AIDS agencies. He also began volunteering at the anti-AIDS, pro-LGBT-rights organization Camfaids, which had been founded by Dominique and journalist/activist Eric Lembembe.
[…] "I had to enter the gay world and gain the confidence of this milieu," he says. "For solidarity, I frequented the same snack bars in the gay community at the Carrefour de la Joie."
Straight students at the University of Soa wrote insults on the wall of his room: "Faggot! You hang out with faggots!"
Nobody let him join their sport teams.  Nobody would shower near him.
People mocked his family, saying, "That family is cursed. Two fags in one family! It's hereditary."
But such intense persecution only strengthened Guillaume's determination to support his brother and the gay community, despite the consequences for his own life.
Eric Lembembe recruited him to work as a paid trainee and then as a paid employee at the social development organization ASSOAL, then as webmaster for Camfaids. In late 2012, after Dominique moved to France, Guillaume continued working with Eric.
In the summer of 2013, Eric was murdered. The LGBT community demanded an investigation, which came to nothing.
"The whole homosexual community was under pressure," Guillaume recalls.
Publicity about Eric's sexual orientation caused problems for Guillaume at ASSOAL. […] ASSOAL coordinator Jules Dumas Nguebou told him in mid-2014:  "You support the fags. So you are part of it. We cannot keep you on, even though your work is satisfactory. The image of ASSOAL is at stake. You have to leave. "
Unemployed, Guillaume had to return to his parents' home in Manguier, a dangerous and poor neighborhood in Yaoundé. There the harassment continued.
"Since 2015, because of Dominique's activist work abroad, we received insults from neighbors and young people in the neighborhood," Gauillaume says. "Everyone knew that Dominique had left the country because he was homosexual. He was accused of promoting homosexuality and sullying the image of Cameroon abroad."
Neighbors called them "the family of fags."
For safety, the family changed the doors and installed new locks. But someone broke in and ransacked the kitchen.
[…] In the past three months, he has been attacked twice in violent fights with young people in the neighborhood.
Then neighbors filed assault complaints against him in two police stations and accused him of "homosexual propaganda." […]
He fears for his life and for his family's safety, which are in danger on a daily basis. The reason: because his brother is a gay-rights activist.