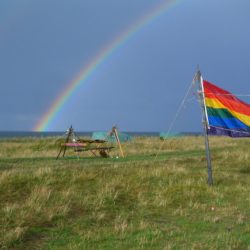 Karla Avelar - A transgender activist in El Salvador has sought refuge in Ireland.
Washington Blade 17/11/2017
Approximately 600 LGBTI people have been killed in El Salvador since 1993. Karla Avelar, a transgender activist in that country was forced to seek refuge in Ireland [Story collected by Michael K. Lavers].
Karla Avelar made the announcement in a letter she addressed to her colleagues in the country's LGBTI rights movement and at Comunicando y Capacitando a Mujeres Trans, a trans advocacy group known by the acronym COMCAVIS-TRANS that she founded and directed.
Avelar in her letter said she left El Salvador because of concerns about her safety and that of her family. The activist and her mother were subject to threats to their physical and mental security, and she felt obligated to seek refuge outside the country as a result.
"I strongly believe that my activism was pure and genuine but it is time to think a little about my safety and the security of my family who accompany me in this new challenge," said Avelar in her open letter.
She was the victim of two attacks with a firearm in the 1990s. The U.N. High Commissioner for Human Rights has urged the Salvadoran government to protect the LGBTI human rights defender.
In spite of this adversity, Avelar always emphasizes how proud she feels that she is a human rights defender for trans women in El Salvador, work that she has done since 1994.
"To work in the fight for the human rights of my community is part of my conviction," Avelar told the Blade during an interview on Sept. 22 of this year. "This is the vision that I have for the future, to see that my country gets better."
Avelar is the first trans finalist in the history of the prizes that the Martin Ennals Foundation awards to human rights defenders.
She was the victim of extortion by gang members two days after the foundation announced her nomination.
Avelar filed a complaint with the attorney general's office and an article about it appeared on the front page of a local newspaper the next day.
"The same prosecutor leaked the information," Avelar told the Blade. "A system that is supposed to be safe for all citizens who file a complaint is the same one that is violating you and makes you visible to your aggressor."
Avelar took additional security measures after she was threatened: She moved and changed her cell phone and used two passwords to protect her email account. But all of this protection was not enough, and her main concern was for her mother.
"What truly worries me right now is the last time that I had contact with them they emphatically told me that they were going to look for me in October, when I was presumably going to return from the awards ceremony," Avelar told the Blade.
Avelar was notified about a request for refuge made on her behalf while she was on a world tour as part of her nomination for the Martin Ennals Award.
According to statements made by Cruz Torres, director of sexual diversity for El Salvador's Secretary of Social Inclusion, approximately 600 LGBTI people have been killed in the country since 1993.
[Michael K. Lavers contributed to this article]