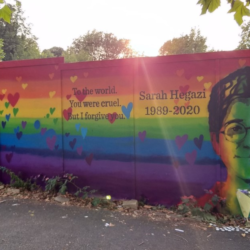 From Sara to Sarah: in memory of Sarah Hegazi, activist in Egypt
SOGICA 09/10/2020
Sara Alsherif shared with SOGICA the work done to commemorate the activist Sarah Hegazi, who recently passed away after years of fight for sexual and gender minorities' equality in Egypt. Have a look and share!
Sara Alsherif, a postgraduate student from the School of Media, Arts and Humanities, organised, alongside community members, a mural to commemorate the life of Sarah Hegazi who passed away in exile after suffering homophobic violence and torture by Egyptian police for simply holding a rainbow flag in public. The mural is located at York Grove junction with New England St., BN1 3TT, and these are the words said on the day of its unveiling.
"First, thank you to everyone here, and to everyone who helped us to bring this mural to the light.
"To my siblings,
I tried to survive but I failed; forgive me.
To my friends,
The journey was cruel and I am too weak to resist; forgive me.
To the world,
You were cruel to a great extent, but I forgive you."
This was Sarah's death note, the one she left behind before she took her life.
I don't know how we should mourn our friends, or why anybody should pay with their souls for being themselves. A simple action like raising and waving a rainbow flag is commonplace in the UK but can cost people's lives or freedom in Egypt.
This mural today is not only for Sarah but also for all the people for whom Sarah gave a voice: the gays, lesbians and transgender people who struggle for their identity to be acknowledged in Egypt. In Egypt it is a crime to belong to the LGBTQ+ community, and if you are a trans you
will struggle for new identity papers. If you manage to survive the stigma, discrimination and the hate speech you have to endure, you are still forced to live with a different identity in official papers.
I am here today, and Sarah Hegazi is with us here in Brighton too, to call out abuse against minorities and LGBTQ+ people in Egypt. It is not separate from the general abuse that people face but more intense. It is what will continue to happen if the Egyptian regime continues to get support from countries like the UK. The supply of police and military training and technology is being used against civilians and the LGBTQ+ people in particular. It enables the authorities to identify and track them from their social media accounts. and arrest them. This how they caught Sarah, and others.
Sarah is not the first to end her life this way, but with this commemoration, we hope to make her the last person we lose because of gender identity."
Thanks, Sara, for sharing this with SOGICA as well. May Sarah rest in peace.