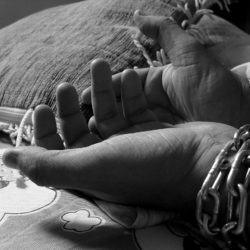 Being gay in Pakistan: A story from Lahore
Il Grande Colibri 26/10/2018
The story of a young gay man from Lahore, Pakistan, collected by Faysal Zia for Il Grande Colibri.
Ever since its creation, the Islamic Republic of Pakistan has been influenced by various Islamic ideologies coming from different governments. Furthermore, he country's independence inherited many British Era laws including Article 377: the most petitioned against gay men. Because the entire society is heavily influenced by religion, homosexuality remains a taboo. All the major sects of Islam have completely forbidden homosexuality but the existence of an homosexual population cannot be denied in Pakistani society.
Haseeb Rathore is a young gay man from Lahore, Pakistan who "recognized himself" and felt different from others at a very young age, but was not allowed to express his feelings. Like other gay boys, Haseeb tried his best to be accepted but nothing ever worked for him. During grade school, college and even in his professional life, he felt cornered, exposed to bullying by family members, classmates and colleagues.
Haseeb has always been an independent person, he left his parents' house early on since his family wanted him to either change his sexual orientation or leave. Haseeb found himself with no place to go and had no choice but to take shelter at a friend's place. This is when Il Grande Colibri learned about Haseeb's story and took the opportunity to interview him about his identity as a gay Muslim from Pakistan.
What does it mean to be gay in the Islamic Republic of Pakistan?
To be a gender minority in Pakistan is the worst. This is a country where discrimination based on color, caste, race, and wealth is very common and when it comes to sexuality, hypocrisy and double standards make it unsustainable for the gender minorities. It's easier to live a hidden life than to live openly in public.
How do gay men in Pakistan spend their life?
Most gay men spend their life in guilt, carrying a burden of sins. In our society they only have two options: one is to come out of the closet and live a horrible life and being bullied; the other is to conceal their sexuality for the rest of their lives. People usually choose the second option. They get married and start living a dual life: one for the family and society, the other for their own satisfaction. This makes life very pathetic and a under continuous threat of being caught. Very few men come out and even when if that happens, they get very little support from family and society.
Transgender people have some acceptance in Pakistani society: what is it like to come out to a colleague or a friend?
I believe there is still much intolerance for transgender people. Although, they get recognition and some of them are prominent people, the struggle beginning at a young age is still the same, there is no difference. They have to go through the same bullying in school, same stigmatized behavior by society. I wonder, if transgender people are actually accepted in our society then why can't we see a 12 year old transgender come out?
It is really dangerous to come out as gay in front of a colleague or a friend. Sometime colleagues think they can take any type of sexual advantage while a friend can smooth out the way with family and society which could both make one's life miserable, or so it was in my case.
How do you conciliate your sexuality with your religion?
I'd rather not comment. According to the definition of Islam, my religion may not accept my sexuality but my faith in Allah cannot be changed. This is how I was born: accept it and deal with it!
Can you describe gay bullying in Pakistan?
Gay bullying is at its worst form in Pakistan. I'd say effeminate boys get the most bullying. In some cases, they are stuck in a situation they cannot ignore where they can't get away easily. Young gay men are called: "gandoo" [a person who likes to be fucked, in Urdu and Punjabi; Ed.], "bund" [ass, in Urdu and Punjabi; Ed.], "cake" etc which are used for extreme humiliation and bullying. No one from our community is there to help them with the trauma they are going through.
As senior community members, it should be our responsibility to look out for them, but right now we are so busy with our own schedule that the victims of bullying are fully ignored and left alone to face everything on their own.
How does a Pakistani family usually discriminate against a queer child? Is the discrimination based more on religious or cultural ground?
Pakistani families discriminate against queer children by believing they have some mental disorder. They keep children away from their relatives, sometimes siblings disown them in public and sometimes queer children, especially transgenders, are thrown out from their parents house. It's hard to say if it is a religious or cultural discrimination as so many people don't even know the difference between cultural and religious values. Some people follow culture considering it to be religion and the irony is they will never be able to find out the difference.
Gay relationships are definitely realistic in Pakistan. Sometimes they are carried out from "inside" the closet, sometimes they are publicly open depending on how privileged you are and on how much pressure you can absorb from society and family.
What is future of LGBT people in Pakistan?
The future is all about us (LGBT). People are embracing themselves and spreading awareness in their own capacity. LGBT people are uniting slowly, putting aside the differences within the community. Definitely, the results of undercover campaigns and efforts will be seen soon.