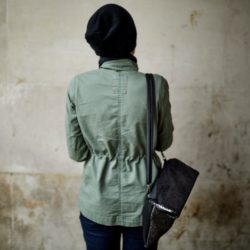 A Zimbabwean woman's 15 years of life in limbo in Britain
The Guardian 03/05/2017
The Home Office rejected Paradzai Nkomo's sexuality claim, saying it did not believe she had a "well-founded fear", and a lesbian returning to Zimbabwe "would not face a real risk of persecution".
Paradzai Nkomo's emailed description of her situation is succinct and shocking. She is Zimbabwean and has been in Britain for 15 years. First her application for asylum was rejected and then her request to be deported home was also refused, leaving her stuck in limbo.
"It's difficult to integrate as I am not permitted to work. Conversation becomes repetitive because of not doing anything apart from looking out of a damp, drenched window day after day. Hiding malnutrition under borrowed clothes," she writes. "A quest for freedom has now turned into a hellish nightmare. I feel as though death may be the only way out of this."
Last year she spent four months in a hospital in Leeds, accommodated there for an extended period, apparently because charity workers were unable to find her anywhere else to stay. . "They dumped me in a hospital, where they housed me out of pity," she says in an interview in a cafe in the city.
Desperate to end the protracted fight for asylum, Nkomo, 34, applied for a UK-funded voluntary return scheme, deciding it would be best to return to Zimbabwe. She was told she was not eligible owing to a puzzling technicality, and instructed to submit a new asylum claim, which she has done.
While she waits for a decision, she relies on Leeds charities to find her places to sleep, hoping every morning that someone will volunteer a bed in their home that night. She is not allowed to work and has no money for anything – food, toiletries, clothes.
Nkomo's status is not some absurd one-off. There are at least 4,900 people in Britain whose asylum cases were rejected but for one reason or another cannot be returned home. Their fate is a dead-end void in which it is impossible to work, plan, or build any sort of life.
Nkomo – which is not her real name, to avoid complicating her ongoing claim for asylum – is getting no government assistance.
In March the Red Cross published a report on people refused asylum in the UK but unable to return to their home country. Half the people refused asylum interviewed for the report had considered suicide. "Others reported chronic stress, insomnia, anxiety and depression and most felt they have no control over their life," the report states.
Nkomo arrived in the UK in January 2002. She says she left Zimbabwebecause she knew it would be difficult to live there as a gay woman. Her parents bought her a ticket to the UK and she arrived with £250 in her pocket.
She found work as a cleaner in a gym in Watford, earning money without papers, cash in hand, taking home about £100 a week. Well-educated, she had hoped to be a graphic designer or an accountant, but she took whatever work she could find where papers were not necessary. Later she worked in a packaging factory in Northamptonshire, and then in a pharmaceutical plant, packaging medicines.
It became harder and harder to work without papers. She bought a fake Belgian passport for £300 and in 2006 was arrested and prosecuted for working with illegal papers. She was given a 12-month prison sentence, and while in jail she was advised by a prison officer to claim asylum.
"People assume that you know about asylum. I had no idea what it was; it was not something that you study in school in case this happens. I had no idea until I got to prison," she says.
Back home, her father had lost his job and the family left for Botswana; it did not seem possible to return to Zimbabwe. She has not seen any of her relatives since 2002.
Nkomo was given asylum-seeker accommodation in Doncaster, started college and waited for a decision, reporting every month, as required, to the Home Office. She heard nothing until 2009 when she was told her case had been refused some time previously. She says she had not received any notification of the decision, and her allowance and accommodation had never been cancelled.
She appealed and was again refused. She was moved into new asylumseeker accommodation in Hull, and then to Leeds where she lived until another appeal was refused in 2013. The stress of the process triggered a breakdown and she was hospitalised.
The Home Office rejected her sexuality claim, saying it did not believe she had a "well-founded fear", and a lesbian returning to Zimbabwe "would not face a real risk of persecution".
The merit of Nkomo's asylum claim, and the willingness or otherwise of the system to accept it, is no longer at the heart of her predicament. The injustice, as she sees it, is that she is unable to remain in the UK in a way that allows her to have a proper life, to work, have money and stable housing, and she is equally unable to return home.
When the charity running her accommodation in Leeds was shut down last year, Nkomo was moved to the Becklin Centre, a mental health clinic in the city. Staff there encouraged her to apply to return to Zimbabwe. She filled in the papers, and the application was approved. But then she was told the decision had been reversed, because of her 2006 conviction.
Some time in her protracted attempts to stay in the UK, a deportation order was issued against her, which she says she was not told about. It was never enforced, but because the order had been made, she was no longer eligible for the voluntary return scheme. Nkomo was advised by officials to resubmit her asylum case.
She does not expect a decision soon, having received a letter stating: "Unfortunately I am unable to give you a timescale for conclusion but the outcome will be sent to you within due course."
Nkomo says: "You become professional at spotting that kind of phrase because you've been at it for so long. When I saw that, I knew from past history I could be stuck like this for years again.
"I made a fresh claim because they said you should make a claim, because they wouldn't allow me to go back because of the historical deportation order. I think they will say no. It is no longer about the asylum any more; I've lost that. I can't leave the country. I don't know when they will be ready to deport to me."
Her passport has been in Home Office hands since 2005, and she was only sent copies of it in December 2016. She has no income, no savings, and no money to travel to the Zimbabwean embassy to get the necessary documents or to pay for a ticket home home.
She is intelligent and articulate, but says the attitude she encounters is: "If you are so intelligent, how come you can't figure out how to get out of the mess you are in?"
Currently she gets help on a nightly basis. "They are families who volunteer for a hosting project. You don't get a key. You go at night; you leave in the morning. You spend the days waiting around the town, waiting for a phone call to see if you have a bed for the night. You have nothing to do," she says. "I feel British; the way I talk, I sound British. People don't know I am an asylum seeker, unless I tell them – but I'm not part of society.
"It has been hell on earth. You don't feel like a person. You always feel like you are at the mercy of everyone. You are always begging for help. When you tell people what you are going through, people think you haven't got enough to do, and you are creating stories in your head. You become very good at hiding things. Because I'm so isolated, my social skills have dropped. I struggle to look people in the eye. I think people are thinking: 'Why would I want to talk to you? You don't have a job. How can you contribute to what we are talking about?'"
The Zimbabwe Association, a charity that works with Zimbabwean expatriates, recently published a book, Our Stories, about Zimbabweans caught in similarly difficult asylum claims. It concludes: "There must be a better way to avoid a situation where so many lives are left on hold."
The Red Cross wants the government to grant discretionary leave to remain, including the right to work, to fully refused asylum seekers who have been taking steps to leave the UK for more than 12 months. Such a move could prevent a small number of people being left destitute for extended periods of time.
"Life for fully refused asylum seekers is bleak," says Mike Adamson, the chief executive of the British Red Cross. "Having no permission to be in the UK but no way home means being stuck in a permanent state of limbo and often living hand to mouth. We believe this is inhumane and this kind of status should only ever be temporary."
Others in her situation have disappeared underground and taken work in the grey economy, employed without papers, but she does not want to do this. "I learned my lesson 11 years ago. I try my best to abide by the rules."
During the three hours she spends explaining her plight, Nkomo is calm. That is, until she speaks about the certificates she received studying law and accountancy, which were recently sent back to her by the Home Office. She worries now that she will lose them somewhere because her life is so unsettled. Recalling how hard she worked for them made her cry.
"It was a waste. All the certificates I have; it is a waste. I came top of the class in law. The person who was teaching me was so happy. Everything is such a waste. Any prospects of any sort of career are out the window. I am just hanging around, floating about one place to another – it's a story that doesn't end," she says.
"You almost feel guilty; last Friday I went to stay with a family I stayed with last year and nothing has changed. My health has got worse – you go back again, you look 10 times worse than when I last saw them.
"I think: 'God, if I can just hold on a bit longer, maybe the papers will come' – but the papers never come. I feel like a prisoner but I am outside. I have said to my lawyer if they would put me in a detention centre that would be easier."
Last month a judge in London ruled she was destitute and eligible for basic refugee housing, which means that at some point soon she will be contacted by the Home Office and driven to a room somewhere, anywhere in the country, where she will continue to wait for her situation to be resolved.
"The longer it carries on, the more left behind I get. I'm homeless, no money, walking around with with a plastic bag of my belongings every day. If they don't want me, they should just send me back. Why won't it ever end?"