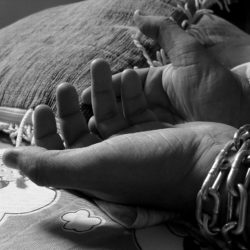 An HIV-Positive Gay Asylum Seeker Staged a 7-Day Hunger Strike in an ICE Detention Facility
The Nation 05/01/2018
This is the story of Jesus Rodriguez Mendoza and his protest for prolonged detention, substandard medical care, and parole denial [story collected by John Washington for The Nation].
After more than seven months in an Immigration and Customs Enforcement (ICE) detention center, a gay Venezuelan man who is HIV-positive, Jesus Rodriguez Mendoza, staged a seven-day hunger strike in protest of his inhumane treatment. […]
Among his complaints to ICE, the agency that runs the El Paso Processing Center (EPPC) where Mendoza is housed, are discrimination based on sexual preference and medical condition, lack of access to necessary and life-saving medication, prolonged detention, and near-complete disregard from his deportation officer, who he saw for the first time only after he began his hunger strike. Besides the single short visit with his deportation officer, he has not been contacted by any ICE officials since he began his strike. If Mendoza doesn't get notice on his parole petition by December 24, he vows to stop eating again.
On December 4, four days into his hunger strike, Mendoza wrote in a letter to his advocates: "In the first six months that I have been detained at the El Paso Processing Center, I have made twenty-five requests to meet with my deportation officer, Officer Valencia, and all have been denied or ignored. My two previous requests for parole have been denied and it is still not clear to me why." His attorney, Linda Rivas, from the El Paso-based Las Americas Immigrant Advocacy Center, helped him file his third petition for parole, which is currently under consideration.
Originally from Venezuela, Mendoza spent 10 years living in the United States, in the Miami and New York City areas, working in online advertising on multiple visas. He has also lived in the UK, has no deportations from the US, did not overstay any of his visas, and has never committed an immigration violation. In 2006, he returned to Venezuela, where he worked in IT for the opposition party's presidential candidate, Henrique Capriles, who in 2012 ran against and lost to the late Hugo Chávez. Because of strong anti-homosexual sentiment in Venezuela, he mostly hid his sexuality, and struggled to treat his HIV. "I never got any medicine from the government," he told me in a phone call. Originally diagnosed in 2002, while in Venezuela he received his medication from friends abroad. After a while, no longer able to sustainably self-import his medication, he registered to receive treatment in Venezuela, but was told he was not a priority; his health began to deteriorate. At the same time, he began receiving threatening letters, referencing the fact that he was HIV positive—he suspected them to be from government supporters—and was followed on multiple occasions. […]
Fearing for his safety and his health, Mendoza fled the country, first to Mexico, where he worked on a visa, and finally to the United States. He presented himself at the Ysleta, Texas border crossing on April 28, 2017, and requested asylum. His attorney explained that he has a dual asylum claim—both political and based on his discrimination because of his sexual orientation—calling it a "viable claim."
Mendoza described the bitter welcome he received when he first showed up at the US border. After requesting asylum and volunteering to the CBP officials that he was gay and HIV-positive, an officer locked him in a room and told a woman who was cleaning to "get out, because he's sick." He was closed into a freezing cold holding center for a day and a half—one of the notorious hieleras. As he was being transferred to the EPPC, they put a mask over his face, and when a guard asked why he had a mask on, the agent said, "He has HIV." He has remained locked up inside the EPPC, with approximately 800 other inmates, with some periods in solitary confinement, for the past seven months.
In the same letter to supporters, Mendoza wrote: "If ICE is denying my parole knowing that I have a serious medical condition, why are they not taking care of me?" Despite detention center staff being aware of his HIV-positive status and his repeated requests for antiretroviral therapy, Mendoza claims he has received insufficient care, and that his medical condition has significantly deteriorated. He reports depression, mouth sores, tooth and gum infections, as well as intense stomach pain resulting from an antibiotic he was prescribed. He describes filthy showers and, more threateningly, he alleges that he was forced to change his anti-retroviral medication—which can have serious effects on his immune system, making him vulnerable to sickness. […]
Requirements for parole eligibility include having a sponsor to financially and practically support a client, not being a flight risk, having strong ties to a US community, and not posing a danger to society. Mendoza fulfills all requirements.
Sebastian de Kleer, a US legal permanent resident originally from Holland, who has known Mendoza for over 10 years and is acting as his sponsor, described him as "a wonderful optimist. He works really hard. He's a fighter. Very creative." He also explained the difficulty Mendoza faced living as a closeted gay man in Venezuela. "You can't be yourself," de Kleer said. "It was very tough for him." According to Ian Philabaum, program director at the Innovation Law Lab, who has been keeping close watch over the case, Mendoza has "a warm and loving home waiting for him" outside of detention. On May 10, Rodriguez Mendoza passed his Credible Fear Interview, an early step in the asylum process, and yet parole remains out of reach.
Major changes in parole policy started about two years ago, Rivas explained. […] ICE officials are "empowered by the political climate," and even "refuse to follow their own rules." She described "elderly people with health conditions being denied, pregnant women being denied, women who just had miscarriages while in detention being denied. It's just a denial all around." She added that the blanket denial functions as a deterrent not only for potential asylum seekers, but also for advocates wanting to help. One of her past clients, after suffering months in detention while futilely trying to make parole, told her, "I'd rather go home and die." […]
"The most difficult thing in my entire life," is how Mendoza described his time in detention. "I can't even explain what it is like here." […] "I feel so neglected," […] "I feel absolutely loopy," adding that he spends hours a day crying. After allegations that homosexual detainees were harassing other detainees, creating an environment of hostility, guards started enforcing a new rule, disallowing detainees to sit on the same bed together. Other detainees blamed Mendoza for the new rule, because he is gay. […]
According to the National Immigrant Justice Center, "LGBTQ immigrants pursuing claims to protection that are related to their sexual orientation or gender identity often face discriminatory attitudes in the immigration court system that lead to denials of immigration protection and longer periods of detention." Other studies corroborate that ICE detains LGBTQ immigrants at higher rates than heterosexual detainees and that they are more vulnerable to discrimination and abuse. Until 1990, homosexuality, by itself, was grounds for exclusion from the United States, and it wasn't until 2009 that President Obama ended a ban prohibiting people with HIV from traveling to this country.
The stigma, however, lives on inside immigration detention facilities. Jamila Hammami, executive director of the Queer Detainee Empowerment Project, wrote to me, "The plight of LGBTQI/GNC [Gender Non-conforming] folks in detention continues to become increasingly more isolating and discriminatory. ICE cannot keep people safe, engages in gross medical neglect, does not parole people out, and has created barriers for folks that have to 'prove' their queerness to them in order to be released on asylum. And still, often people don't receive asylum in the end."
[…]
Alan Dicker, of the Detained Migrant Solidarity Committee (DMSC), who has been supporting Mendoza since this summer, described the already obdurate stance ICE was taking towards allowing parole in El Paso, which has been "exacerbated under Trump." "ICE officers will tell [asylum seekers] straight up, 'Parole is not an option,'" Dicker said. He also described, echoing the Center for HIV Law and Policy paper, the history of inadequate medical care in the EPPC: "The default treatment," even with serious medical issues, "is 'Drink more water, take a Tylenol.'"
In a report written by DMSC, one detainee, kept anonymous for fear of reprisals, described the hostility of the ICE officers: "If we try to stand for our rights ICE agents try to scare us with threats like…'we would send you to the hole for some days.'"
Mendoza described his struggle as part of a collective struggle, in concert with the other detainees; he wasn't just hunger-striking for himself. The guards and the nurses are not the problem, he told me. There are some bad apples, he said, but they're the minority. "We don't suffer because we are being treated badly," he said. "We are suffering because of ICE. We are facing a jail sentence here. A jail sentence that doesn't have any end." You never see ICE officials, he told me, "ICE are like ghosts."