The research to be carried out in the field by the SOGICA team members is of paramount importance due to the current paucity of both quantitative and qualitative data. In addition to the documentary analysis of – inter alia – international, European and domestic case-law, policy documents, NGO reports, and case files, the analysis will be based on:
30 non-participant contextual observations (in the form of observations of SOGI asylum judicial hearings);
120 interviews (40 in each country) with policy-makers, decision-makers, members of the judiciary, legal representatives, NGO activists and SOGI asylum-seekers;
12 focus-groups with SOGI asylum-seekers (at least three in each country).
Great care has been given in designing the methodology to ensure that the empirical data will be sufficiently extensive and representative to achieve SOGICA's objectives and provide valid answers to the research questions. SOGICA is committed to maintaining the highest ethical standards in this research, in accordance with ethical codes developed within the University of Sussex, which abides by a very rigorous ethical procedure. SOGICA also complies with national ethical procedures endorsed by the Socio-Legal Studies Association (SLSA) and the UK Economic and Social Research Council (ESRC), and with the European Research Council ethics regulations and codes. Approval from the University of Sussex' Ethics Committee has been obtained in the project's first year (certificate of approval for Ethical Review ER/NH285/1). Since October 2017, we have called for project participants. We have met asylum seekers or refugees claiming on the basis of sexual orientation or gender identity, people who work with or support SOGI asylum seekers and refugees, including lawyers, service providers, judges and NGO staff. All interviews have been held on a strictly confidential basis and we have given potential interviewees full information about the research to help them decide whether to take part or not. The fieldwork has taken place across Europe:
More generally, in the spirit of knowledge exchange, we are keen to collaborate with research participants and stakeholders throughout the project, and we are trying to make this engagement a genuinely two-way process. We hope that our database of resources on this website will be useful for asylum-seekers, practitioners and researchers alike. We would be happy to give presentations about the project, contribute to workshops and training, or support European SOGI, refugee and migrant organisations in other ways through our work.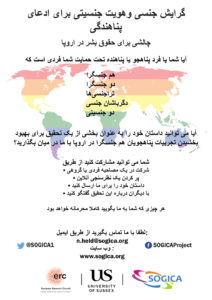 Although the SOGICA team is no longer looking for people willing to be interviewed or take part in a focus group, feel free to contact us if you would still like to be involved. In this case, feel free to download the SOGICA information sheet for participants available in the following languages: Arabic; English; French; German; Italian; Turkish; Urdu; Farsi.
If you would like to be involved in other ways in our project, or would like us to support your organisation, then please contact the SOGICA team. We will be glad to answer to any call for support.